JoviNews - March and April
Taken from RichieSambora.com:
RICHIE SAMBORA UPDATE April 25, 2002
Richie Sambora has donated a signed Fender guitar to the Benefit for the Tuberous Sclerosis Alliance Auction. Jennifer Love Hewitt & Patricia Heaton will host the event titled "Comedy for a Cure" featuring Andy Kindler, Michael Richards and comics from the world famous Laugh Factory. Proceeds from the event will be donated to the Tuberous Sclerosis Alliance. The event will be held at the Laugh Factory on April 28, 2002 at 8:00PM (arrivals begin at 7:00PM). Tickets are currently available for $100. For more ticket and event information please call (310) 829-1640.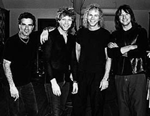 New video on BonJovi.com!
Check Bon Jovi's oficial website to see the new video of the recording process of "Bounce".
~~~~~~
From Yahoo.com
H.S. Honors Bon Jovi Keyboardist

EDISON, N.J. (AP) - Bon Jovi keyboardist David Bryan returned to his roots when he was inducted into the Hall of Honor at his old high school.

Bryan, a 1980 graduate of John P. Stevens High School in Edison, was among 12 people honored Thursday by the school for their achievements. During his time at the school, Bryan received strong marks while playing in the school band and on its soccer team.

He also found time to play numerous club dates with Atlantic City Expressway, a band that featured a young Jon Bon Jovi. Bryan's music teacher, Andrew DeNicola, would sometimes perform on the same bill with his band, Boulevard East.

"I would come to (DeNicola) in the morning (and say), `Dude, I need a pass. Can I sleep in your room? Please!'" Bryan told the Home News Tribune of East Brunswick for Friday's editions. He now lives in Colts Neck with his wife and their three young children.

The ceremony included a video salute from the members of Bon Jovi.
(Note from Cristina: There is a big interview with David on the May issue of the british mag Classic Rock!

)
~~~~~~
From RJ Magazine
(courtesy of ILoveDavidBryan list)

Bon Jovi's David Bryan: Keeping the Faith
\by Arie Kaplan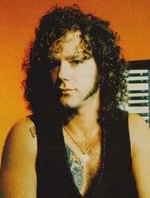 David Bryan, keyboardist and founding member of Bon Jovi (a 2001 Grammy nominee for their album Crush), is that rarity in the pop music scene: a successful rock musician who's also a practicing Jew.

Born David Bryan Rashbaum ("Not a very good stage name," he jokes), David is a classically trained musician who was raised in Edison, NJ, where he still lives with his wife and three children. He still attends the synagogue of his youth--Temple Emanu-El in Edison. In fact, David is Temple Emanu-El's official ba'al tekiyah, High Holy Day shofar blower. "The kids take out their stopwatches and time the t'keyah G'dolah," says Rabbi Alfred B. Landsberg, the congregation's spiritual leader for the past thirty-three years and David's mentor since he was in second grade.

"Rabbi Landsberg has taught me the essence of being Jewish," David says: "'do not unto others what you would not have them do unto you,' and respect women. Rabbi Landsberg always said, 'Not Mankind, Peoplekind! Not King, but Ruler!'"

David says his compositions are informed by Judaism--particularly Jewish music in minor keys. The Kol Nidre, he says, is a classic example. "Its intensity brings tears to your eyes." As an artist, his beliefs and spirituality are channeled into the music. Most of the music David writes, both with Bon Jovi and on his new solo album Lunar Eclipse (Moon Junction Music/Rounder Records), is instrumental, but occasionally he writes lyrics reflecting spiritual themes, as in this verse from the love ballad "In These Arms" off Bon Jovi's 1993 album Keep The Faith: "Our songs are our prayers. These prayers keep you strong. It's what I believe. It's where we belong." David calls this song "very Jewish in terms of ideals of commitment, fidelity, and
love," but, he says, the songs are created to be appreciated by everyone, regardless of religion. "The music is all about life, and
that's spiritual. God is everywhere. When you look at a baby, that's God. You're a blank human being. Someone's gotta
program it. That's God."

Today, David Bryan's life seems relaxed and focused. And yet, there was a period when things could have best been described as "fuzzy." During Bon Jovi's early years, from 1984-1990, the band was performing at such a breakneck pace that David was home for a grand total of six months. "People don't realize the commitment," David says. "This is not something you do on weekends, if you feel like it. It's a life's work. Every day. We work
in dog years. Every year is like seven years." This "tour-till-you-drop" life style couldn't last forever.

The breaking point came after the Slippery When Wet tour in 1990. Then, David and the other Bon Jovi musicians made a pact. "We came through the fog and said, 'Let's lighten up the pace.' We decided to go into a 'human,' not 'superhuman' phase." Now, David has time to spend with his family. The band tours for six months, but take breaks in between. "I think when you're at questioning points in your life, that's when religion kicks in for people," he muses. "It enables you to get through things, to dig down deep in your soul."

David's newfound freedom has opened him to musical genres beyond the realm of rock and roll. He's currently writing the music and lyrics for two Broadway-bound musicals--Fast Breaks, based on the Sweet Valley High series of children's books by Francine Pascal; and Memphis, a rock musical with a book by Joe DiPietro, author of I Love You, You're Perfect, Now Change. He recently performed a cover of Adam Sandler's "Chanukah Song" during Bon Jovi's annual holiday benefit concert at the Count Basie Theater in Red Bank, NJ. And he continues to win the praise of his rabbi: "Some people who get big have no time for 'the little people,'" Rabbi Landsberg says. "David always has time. And he'll always stop to sign autographs for the kids in the congregation. When he and I see each other, we hug. Because I represent the temple and because we love each other."


Jon Bon Jovi attends Coca-Cola's Annual Meeting in NYC
(both articles curtesy of MCDLANCER@aol.com)
From today's Atlanta Constitution-Journal:

It's razzle! It's dazzle! It's Coca-Cola's annual meeting! New York event goes Broadway
Date: 04-18-2002; Publication: The Atlanta Journal and Constitution; Author: SCOTT LEITH, Staff

It's razzle! It's dazzle! It's Coca-Cola's annual meeting! New York event goes Broadway BYLINE: SCOTT LEITH, Staff EDITION: Home SECTION: Business New York --- Coca-Cola staged its own version of Broadway Wednesday. Its first-ever annual meeting in New York featured celebrities ranging from sports legends to rock stars and was as much an elaborate pep rally for Coke as a business gathering. "I think next time we could sell tickets," Chairman and Chief Executive Doug Daft joked. From a business standpoint, the meeting held few surprises. As expected, Coke's shareholders formally elected two new board members --- Home Depot CEO Bob Nardelli and USA Networks head Barry Diller --- and overwhelmingly rejected several requests from activists. Coke usually holds staid annual meetings in Wilmington, Del., where the company is incorporated. In New York, everything was bigger --- and louder. Attendance was about 1,200, easily double the usual turnout, and included such
celebrities as sports legends Muhammad Ali and Cal Ripken, and rock star Jon Bon Jovi. Both inside and outside the meeting at Madison Square Garden, protesters raised issues ranging from unions to workers rights overseas. Coke moved its meeting to New York as a show of support after the Sept. 11 terrorist attacks. Mayor Michael Bloomberg delivered a videotape address praising Coke for the move. Former South African leader Nelson Mandela and Disney's Michael Eisner also were shown on tape talking about the company, as was Robert Redford, who thanked Coca-Cola for sponsoring his Sundance Film Festival. The first half of the event was part musical revue, part marketing hype. It was emceed by TV interviewer Charlie Rose and Georgia native Julie Moran of Entertainment Tonight. Daft was prominent throughout the nearly four-hour epic, including the airing of his pretaped interview with Rose.
Music anchored much of the show, highlighted by famed trumpeter Wynton Marsalis. Bon Jovi showed up in a cowboy hat and a bleary-eyed gaze for the morning meeting. "It's a little early for rock-and-roll stars to be up," he said. The Smith family of Reidsville, Ga., was vacationing in New York and decided to drop in on Coke's extravaganza. What they got was a lot of entertainment and a ton of free soft drinks. "They're pretty good at
marketing, aren't they," said Edie Smith, 39. She said her family will be holding onto their shares of Coke. Coke's elaborate show pushed the cost of
the event to above $5 million --- more than double what the typical Delaware meeting costs. Security was tight Wednesday, with guards checking bags and sweeping individuals with wands. Daft managed to touch on a few business issues. He defended the company on matters like diversity in the workplace and selling sugary drinks to kids. He also tried to preempt some potentially tough questions from shareholders by noting that Coke's much-criticized advertising needs to improve. Still, the event attracted plenty of naysayers. The most famous of them was James P. Hoffa, head of the Teamsters. He complained about poor treatment of Coke workers in many parts of the world.
In front of union protesters outside the Garden, Hoffa also complained about Coke's spending on lavish entertainment rather than on employee pay and benefits. "What about our rights? What about our money?" he asked about 150 Teamsters sweltering on a sidewalk packed with a lunchtime crowd. John Sicher, editor and publisher of Beverage Digest, has attended several Coke meetings and said it was a worthwhile show for shareholders. "This was different from any Coke stockholder meeting --- or any other stockholder meeting --- I've ever attended," Sicher said. --- Staff writer Russell Grantham contributed to this article.
From yesterday's Newsday:

Coke Makes Splash at Annual Meeting
Date: 04-17-2002; Publication: Newsday; Author: James T. Madore

In a 3˝-hour extravaganza resembling a Broadway musical revue, the Coca-Cola Co. yesterday attempted to convince investors its recent earnings disappointment did not signal that future growth would be stymied.
The star-studded annual meeting of shareholders, dubbed a "showcase, " featured performances by rocker Jon Bon Jovi and jazzman Wynton
Marsalis, the comments of baseball ironman Cal Ripken and a walk-on appearance by boxing legend Muhammad Ali.
All praised Atlanta-based Coke for moving its meeting to New York City from Wilmington, Del., the traditional site, in a show of solidarity after the
Sept. 11 terrorist attacks. Company officials urged other U.S. corporations to hold similar meetings in the city.
"We were proud to be one of the first to say we were coming to New York," chief executive Douglas Daft said. "We hope our decision will encourage others to do so."
The audience of 1,200 investors and Coke employees burst into applause when Daft described the annual meeting as a "small way of honoring this remarkable and resilient city." Earlier, the company had donated $6 million to Sept. 11 recovery efforts.
Coke announced in October that the shareholders' event was coming to Manhattan for the first time at the behest of three of its board members. A spokesman yesterday declined to put a price tag on the meeting except to say it far exceeded the $1 million spent on past sessions.
The event opened with two children reading a book on the Madison Square Garden stage to symbolize Coke's support of reading programs. They then joined in singing a musical tribute to the company's "connections to communities around the world," a message frequently repeated throughout the show.
The music and videos, however, didn't assuage investor concerns raised after Tuesday's announcement of a $125 million loss during the first quarter. The loss was blamed on mandated accounting changes.
Coke's top brass faced criticism from shareholders about its commitment to diversity, health care for employees with AIDS in Africa and oppositionto bottle deposits for recycling.
At the meeting, personal appearances by Olympic champions and race car drivers were augmented by videotaped testimonials by South African political leader Nelson Mandela and actor Robert Redford.
Mayor Michael Bloomberg urged shareholders in a taped statement to patronize restaurants, stores and theaters.
Coke spokesman Ben Deutsch, however, couldn't estimate the meeting' s impact on the city economy, though he said the company had established a Web site to help attendees plan their visit. Coke also used 125 rooms at The Pierre and Waldorf-Astoria hotels, along with the services of Empire Force Events in Manhattan.
Coke hasn't been contacted by other Fortune 500 corporations about moving shareholders' meetings to New York City. The beverage giant is the largest to do so to date, though a host of trade associations have announced plans to relocate their events, according to the city's convention and visitors bureau.
A Newsday survey of the city's 10 largest public companies found that five have or will hold their shareholders' meetings in Manhattan. The exceptions include Merrill Lynch, which will convene April 26 in New Jersey, and Verizon Communications, which will meet April 24 in Minneapolis.
Verizon spokesman Bob Varettoni said, "What's best for Verizon at this time is to change our reputation from a local Northeast telephone company to a national player ... having our annual meeting in Minneapolis helps do that."



Curtesy of Bon Jovi's official fan club:
Backstage with JBJ
VH-1: ULTIMATE ALBUMS
On Sunday, APRIL 28, tune into VH-1 for the premiere of ULTIMATE ALBUMS: SLIPPERY WHEN WET. The one hour program focuses on the making of and the success of Bon Jovi's breakthrough 1986 album. JON, DAVE, TICO and RICHIE were all interviewed for the piece, as were Bob Rock, Doc McGhee, Wayne Isham and others involved in the Bon Jovi phenomenon. The show debuts at 9:00 PM ET on VH-1 (but check the listings... you know they always do a 'sneak preview' earlier in the day!) Plus, head over to VH1.COM for more outtakes and transcripts from the show...



IN STYLE MAGAZINE
JON BON JOVI will be featured in next month's issue of IN STYLE magazine. The magazine has a special FATHER'S DAY section. Celebrities (Michael J.Fox, Kevin Coster, Garth Brooks...) were asked to have their CHILDREN take photos of their famous father for the profile. Jon's son, JESSE, took
some photos of his dad... look for them to appear in the Father's Day section of the next IN STYLE magazine. (*For those fans worried... no, there will be no images of Jesse appearing - just the photos he took of JBJ.)





A & E: BIOGRAPHY
Throughout the first few months of 2002, A&E have been putting together the A & E: BIOGRAPHY on JON BON JOVI. Lots of great interviews are taking place and we can't tell you too, too much but look for the one-hour profile to air around the launch of the next Bon Jovi album this fall.... Jon's sitting down for his (very long) interview this week!


WILLIE NELSON
Look for some exclusive photos taken by Jon and Richie while in Nashville... coming soon only for BSWJBJ members...!

Curtesy of Bon Jovi's official fan club:
Backstage with JBJ
HARLEY DAVIDSON - THE OPEN ROAD TOUR
Harley Davidson is celebrating their 100th Birthday this year and to mark the occasion, there are a slew of special events taking place around the globe. THE OPEN ROAD TOUR will be running through 2002 and 2003... it's a traveling festival devoted to Harley Davidson and it's place in history and culture. Following are the dates:
ATLANTA JULY 20-21, 2002
JERSEY SHORE (Old Bridge Township) AUGUST 16-18, 2002
LOS ANGELES SEPT.6-8, 2002
TORONTO SEPT. 27-29, 2002
DALLAS OCT. 25-27, 2002
MEXICO CITY NOV. 22-24, 2002
SYDNEY MARCH 14-16, 2003
TOKYO APRIL 25-27, 2003
BARCELONA JUNE 27-29, 2003
MUNICH JULY 25-27
Each stop will include musical entertainment, activities for kids and adults (bikers and non-bikers) PLUS several rare, never-before-seen EXHIBITS. The core of the Open Road Tour Festival will be three 20,000 square-foot exhibits entitled " THE HARLEY-DAVIDSON EXPERIENCE: JOURNEY, MACHINE and CULTURE." One of the pavilions will be hosted by THE ROCK 'N' ROLL HALL OF FAME... and it's in this pavilion that JON BON JOVI's Red & White Indian Softail Harley-Davidson will be on display (it is no longer viewable at The Hall of Fame - it has already been taken off display to prepare for this tour.) Jon's helmet and leather jacket will also be joining the hog in the pavilion, alongside ELVIS' motorcycle and riding gear. For more information on the Harley-Davidson Open Road Tour, head over to www.harley-davidson.com for details on the Open Road Tour, the Milwaukee based Harley 3-Day Celebration & Party.
WILLIE NELSON & FRIENDS: STARS & GUITARS
JON and RICHIE participated in last night's 'Willie Nelson & Friends' concert that took place in Nashville's legendary Ryman Auditorium. Hosted by actor Vince Vaughn (Swingers, Psycho, Made,) the event saw American music icon Willie Nelson joined onstage by contemporary artists to perform classic Willie Nelson songs. JON and RICHIE performed "ALWAYS ON MY MIND" with WILLIE. Other artists who took part in the concert included Sheryl Crow, Patty Griffin, John Hiatt, Dixie Chicks, Emmylou Harris, Brian McKnight, Dave Matthews, Vince Gill, Lee Ann Womack, Keith Richards, Toby Keith, Aaron neville, Ryan Adams, Hank Williams III and Matchbox 20/Rob Thomas. The entire 2-hour concert was FILMED and will be AIRED on USA NETWORK on MONDAY, MAY 27th (Memorial Day) at 9:00 PM (ET/PS.) It will repeat later that night at 12:00 AM. *Bonus scoop: Did you know that Sheryl Crow flew down to Nashville on the same plane with Jon and Richie? Did you know that the Dixie Chicks joined them for the ride back up to NY after the show? Did you know that Jon first met Willie in the mid-80s when he took part in Farm Aid? And yes... for all of you who want to know: Jon did wear his Shady Brady!
(Note from Cristina: to know more about this concert, please check Shelley's website Bon Jovi Forever, she has great pics and some details about this event!)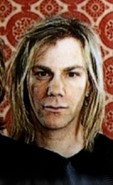 DAVE BRYAN TO BE HONORED
DAVE BRYAN is returning to his alma mater, J.P. STEVENS HIGH SCHOOL in EDISON, NJ to be honored this week. DAVE is being added to the J.P. STEVENS HIGH SCHOOL HALL of HONOR. Every four years, alumni from the school are nominated and selected based upon merits and achievement. DAVE's picture will be added to the Hall of Honor and on Thursday, April 18th, DAVE will be honored at a dinner with school alumni. He will also attend an assembly during the day alongside students and, continuing his devotion to music education and his role as national spokesman for Save The Music, DAVE will also be a special guest in band class. Congratulations DAVE!


DAVE BRYAN: MUSICAL THEATER PROJECTS
Dave is continuing work on SWEET VALLEY HIGH, a musical based upon the internationally best-selling series of teen books (and the popular syndicated TV show of the same title.) In the meantime, his other musical theater project, entitled MEMPHIS, is about to hit the stage. MEMPHIS is based upon the life of 1950's radio personality DEWEY PHILIPS who was the first to introduce white Memphis kids to rhythm and blues... he's responsible for getting rock 'n' roll started on radio (even before Alan Freed coined the term!) The musical was written by DAVE BRYAN along with Joe DiPietro, who also wrote the off-Broadway smash 'I Love You, You're Perfect, Now Change' and 'Over The River and Through The Woods'. DAVE will be on location to watch his project being read by Theater Works of Palo Alto, CA - the readings will take place on May 4 at the Mountain View Center for the Performing Arts (noon and 8pm.) Congratulations, Dave!


Little Steven's Underground Garage
Jon, Richie and Tico were at radio show on Hard Rock Cafe in NYC presented by Little Steven, on the past Sunday (April 7th).
Click here and here for the photos.


New video on BonJovi.com!
Check Bon Jovi's oficial website to see the new video of the recording process of "Bounce".
(pic courtesy of Nany Bon Jovi)

Bon Jovi will tour again!
Acording to a german radio station, Jon Bon Jovi is leaving 'Ally McBeal' in order to concentrate fully on his musical career. The rockstar has had a few guestappearances on the show. The producers would have liked Jovi's character Victor Morrison to stay on the show in order to marry Ally.

But for Victor to make that commitment, he'd have to stay on the show for a longer period of time. And that's not what Jovi wants. He wants to focus on the new album 'Bounce'.

"I have to marry Ally or end it" said the singer in the New York Daily News. "But I have a daytime job. Me and the band have already started recording the new album. And I want to tour again" according to the Jovi.
~~~~~~~
10th annual Elton John AIDS Foundation party - March 23th, 2002
Elton John threw his 10th annual Elton John AIDS Foundation party, sponsored by In Style, at Moomba restaurant in West Hollywood.
A slew of celebs turned out, including Washington, Berry, Spacek, Sting, McCartney, Jon Bon Jovi, Kevin Spacey, Rachel Griffiths, Ricky Martin, Kelsey Grammer, Kate Beckinsale, Benicio del Toro, Vivica A. Fox, Jamie Foxx, Brian McKnight, Donatella Versace, Tobey Maguire, Tara Reid, Dennis Miller and Ian McKellen.

This year's bash raised a record $500,000, aided by a $175,000 donation from M.A.C. Cosmetics' AIDS Fund.
Click here for the photos.
~~~~~~~
Lots of babies in Boca
From the Palm Beach Post, March 19, 2002:

While Danny Glover snoozed Thursday night, searchlights down in Boca swept the sky above Mizner Park, which was one big traffic jam. All for a bunch of babies.

Boca is so different from Palm Beach: The men wear socks. The women wear designers clothes, but the designers use a lot less fabric. Boca women also have plastic surgery, but instead of straightening out wrinkles, it adds curves.

But the people in Boca also are younger, and they're having more babies than Palm Beachers, so Mizner Park was a natural location to introduce a new line of baby clothes. Not any line, mind you - these are from "Rock Star Baby," created by Tico Torres, drummer for Bon Jovi.

Nothing typical about this garb. Denims, ripstop nylon, stretchy fabrics and leather with little tattoo motifs. Picture a motorcycle jacket for that special someone in the terrible twos. Also atypical, Torres chose not a clothing boutique but a new hair salon, Femme Coiffeur, for the intro. At least six languages - English, Spanish, Portuguese, Hebrew, Arabic, French, and seven if you count Canadian French - could be heard among the very international crowd. The owners are from Montreal.

Inside, the martinis flowed. The mesquite-smoked turkey, flown in from Texas, was such a hit that Gourmet Galley's Libby Thompson ran out of business cards. In the median, Torres showed off his kiddie wear. Since most of his models hadn't learned to walk, they were paraded before the audience by professional models, all in black, so as not to detract too much from the rock star babies.

Between gigs (Bon Jovi performed at closing ceremonies for the Winter Olympics) and designing, Torres is looking for a south county home, and he's playing golf. The week before he played in VH-1's Fairway to Heaven tournament at Doral with Vince Neil and Tommy Lee of Motley Crue, Alice Cooper, Hootie's Darius Rucker, Meat Loaf, Judd Nelson, Clarence Clemons, Lawrence Taylor and Sebastian Bach of Skid Row. No results, however, until the show airs April 27.

By then Torres hopes to have his first boutique in business (he's currently selling on the Internet) and will be back in the studio - Bon Jovi is doing a new album.

(Courtesy of Mary Beth)
~~~~~~~
WAR DRUMS AT KIDS' BOUTIQUE
by By RICHARD JOHNSON with Paula Froelich and Chris Wilson

BON Jovi drummer Tico Torres is trying to oust the designer of his clothing line for kids, Rock Star Baby, now that it's turning a profit.

In 2000, Torres, formerly married to supermodel Eva Herzigova, started the luxury children's wear company with designer Cinzia Spalletti, who also launched Halston's baby line and worked for Donatella Versace and Giorgio Armani.

Their ad campaign features the likes of Jon Bon Jovi and Aerosmith's Steven Tyler holding well-turned-out tots. Last year, they staged a fashion show at the Puck Building featuring Mick Jagger's sexy model daughter Elizabeth and hot-blooded hotel heiress Nicky Hilton.

Since then, the line has caught on with stores like Nordstrom, Saks, Henri Bendel and Fred Segal. Rock Star Baby now makes healthy profits.
All of a sudden, Torres has decided he no longer needs Spalletti and is trying to drum her out of the business.

Spalletti alleges Torres is trying to replace her with his hot new 24-year-old Venezuelan model wife, Malejandra, who barely speaks English and has never had a real job in her life.

Earlier this month, Torres, with Malejandra in tow, entered their Elizabeth Street store/studio and yelled at the employees, "I own this company. Everyone eats from my plate. And if you want to continue working here you have to kiss my a- -and my wife's a- - too," Spalletti says.

After she complained, Torres said he was shutting the company down. On Monday, things came to a head when Torres had some henchmen change
the locks on the door.

Spalletti went around the corner to her lawyer Robert Hantman's office, who called police. The cops made Torres' hirelings change the locks
back and told them they could not lawfully bar Spalletti from entering.

Yesterday, Spalletti sued Torres in Manhattan Supreme Court, alleging he has "attempted to use his wealth, power and celebrity status to
oust [me] by sheer intimidation and force." She maintains she did all the work and came up with all the designs while Torres merely put some
money into the business and promoted it.

Torres' lawyer, Dorothy Weber, was in court yesterday and could not be reached. His rep at Island Records did not have a comment.

"I'm shocked," Spalletti told PAGE SIX's Jared Paul Stern. "What is going on is so totally unfair. I worked my butt off. I think the way he's acting is really pathetic."

"Even rock stars have to pay the price for trying to bully a young lady into the street," Hantman says. "The company is her whole life and we hope for a fair resolution."
(Curtesy of Andreia Marques)


Curtesy of Bon Jovi's official fan club:
Backstage with JBJ
THE RETURN OF BON JOVI TV
OBIE has been in the studio with the these past two weeks and promises he's got a slew of new footage... he's going to sit down and
edit some of it together for a new episode of BJTV @ bonjovi.com scheduled to debut on a computer screen near you real soon!
~~~~~~
Jon & Dorothea on the Asbury Park Press - March 21st, 2002
Red Bank free clinic growing with its reputation
By ANDREA ALEXANDER
MIDDLETOWN BUREAU
Generations of people on Red Bank's west side who could not afford the cost of health care have sought help from Dr. James W. Parker Jr., and his father before him.

To this day, Parker -- who is in his early 80s -- holds office hours starting at 5:30 a.m. to reach out to people who cannot take a day off from work to see a doctor.

The Parker Family Health Clinic opened in their honor in July 2000 to service the uninsured in Monmouth County.

While the clinic's reputation grew as a place that treats its patients with care and respect at virtually no cost, so did its client base. In less than two years, 8,000 people received treatment in the trailer on Shrewsbury Avenue, two blocks away from Parker's office.

With the help of rock star Jon Bon Jovi, a Middletown resident, his wife, Dorothea, and other community leaders, the Parker Family Clinic is about to begin a $500,000 project to build a new facility at the site. It will be is four times the size of the original trailer.

The number of exams rooms will double from three to six, space will be provided for dental services, and a community room will be added for education programs as well as screening for high blood pressure, diabetes and other health problems. The clinic is expected to open in September.

Bon Jovi donned a hard hat yesterday and joined clinic founders Dr. Eugene Cheslock and Dr. Timothy P. Sullivan, and other state and local officials in a rain soaked groundbreaking ceremony at 211 Shrewsbury Ave.

During a fund-raiser at their Middletown home in May, the rock star and his wife were able to raise enough money to cover all construction costs. Sullivan would not specify how much was raised. Some of the money may be put in an endowment fund to maintain the new building, if donations of construction services reduce costs, Cheslock said.

"I am proud to take part and do something for the community," Bon Jovi said yesterday before taking shovel in hand. He credited his wife for doing all the work to help the clinic.

All services provided at the clinic are funded through donations. A crew of 30 to 40 doctors, as well as translators and other staff members volunteer their time. Doctors give up Saturday morning golf to help at the clinic, Sullivan said.

Patients pay $5 for medications at two local pharmacies -- Katsin's Pharmacy on Shrewsbury Avenue and Professional Pharmacy on Broad Street. The difference in the cost of the medication is paid by the clinic to the pharmacies. Although some medicines are donated, the clinic pays a $13,000 prescription bill each month to local pharmacies. Riverview Medical Center, Red Bank, provided a grant to help cover costs.

"We are here to stop people from falling through the cracks," said Sullivan. He plans to step down as director of clinical affairs at Riverview Medical Center soon to donate more time to the clinic.

His goals include recruiting doctors from other area hospitals. Most volunteers now are on staff at Riverview.

Cheslock also hopes to partner with Family & Children's Services in Ocean Township to hire a social worker for the clinic. The person would be in charge of making sure all patients eligible for government programs enroll and have access to care.

The work at the clinic is modeled after the help Parker and other members of his family have provided to residents on the west side for nearly 80 years. Parker provides health care to patients regardless of their ability to pay, Cheslock said. Throughout the years, Parker has given free inoculations to children and free visits to patients without insurance.

"We are following his inspiration and his lead," Sullivan said.
~~~~~~

Jon & Dorothea on the american Cosmopolitan - April, 2002
"They Give Love A Good Name". Click here to read the article and see the photo.
Curtesy of Anabela Santos.

Curtesy of Bon Jovi's official fan club:
Backstage with JBJ
JON BON JOVI, RICHIE SAMBORA and WILLIE NELSON
JON BON JOVI and RICHIE SAMBORA have signed on to take part in WILLIE & FRIEND. This is a concert being taped for A&E NETWORKS. On Sunday, APRIL 14th, JON and RICHIE will join other artists who will be performing with WILLIE NELSON and celebrating the music of this true
American legend.

WILLIE & FRIEND will be held at the historic RYMAN AUDITORIUM in NASHVILLE, TN. The show will be all music, all night long. The concert will include performances of Willie Nelson's classic songs as well as some of his favorites - all performed with musicians including Emmylou Harris, Lyle Lovett, Ryan Adams, Dave Matthews, Lee Ann Womack, Vince Gill, Matchbox 20's Rob Thomas, Hank Williams III, Brian McKnight and, of course, JON & RICHIE. Throughout the concert, Willie will be present - playing, singing and jamming with his friends. We can't tell you what JON & RICHIE will be performing but you'll be able to watch for yourself because the entire evening is being taped for a program to air on A&E. You can tune into the broadcast of WILLIE & FRIEND on A&E NETWORK on Monday, MAY 6th (check your local listings.)
~~~~~~
Article on RollingStone.com :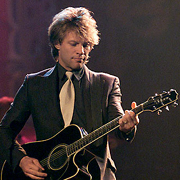 Bon Jovi Prepare to "Bounce"

Band begins work on follow-up to "Crush"

After taking five years between These Days and 2000's Crush, Bon Jovi are back in a New Jersey studio at work on Bounce, the follow-up to their Grammy-nominated comeback album.
The band has written twenty-six songs and finished thirteen demos and in a recent online chat described the upcoming record as having an "upbeat kinda vibe." Luke Ebbin, who worked on with the band on Crush, will co-produce with singer Jon Bon Jovi and guitarist Richie Sambora. The album is scheduled for a fall release.

A Box Set is also in the works for the band. Currently scheduled for release next year, the set will coincide with Bon Jovi's twentieth anniversary.

CHRISTINA SARACENO
(March 15, 2002)

Curtesy of Bon Jovi's official fan club:
Backstage with JBJ

Bon Jovi Head Into Studio To Begin Recording Bounce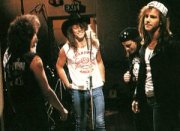 New York, NY-- International superstars, Bon Jovi head back in to the studio this week to begin recording their new album, Bounce. Bounce is being co-produced by Jon Bon Jovi and Richie Sambora along with Luke Ebbin, the same team responsible for the multi-platinum Crush. The band is recording the album in New Jersey and it is slated for a late Fall release.
Bounce is the follow up to Bon Jovi's incredibly successful album, Crush which sold 8 million copies worldwide (certified double platinum in the U.S.), spawned the hit singles, "It's My Life" and "Thank You For Loving Me" and earned the group their first ever Grammy nominations for "Best Rock Album" and "Best Rock Performance by Duo or Group" for "It's My Life". The band embarked on a sold-out world tour that spanned 2000 and 2001, playing nearly 100 concerts in 18 countries for more than 3 million fans. The tour culminated with a two night sold-out homecoming at N.J.'s Giants Stadium. The shows aired on VH-1 and was the highest rated concert event in the network's history. In addition, Bon Jovi released their first-ever live album last year, One Wild Night: Live 1985-2001 which has sold over 2 million copies to date.
The members of Bon Jovi have taken part in some very high profile events this year. In the wake of the September 11th attacks, Jon Bon Jovi and Richie Sambora performed as part of the "America: A Tribute to Heroes" telethon while the full band performed at the VH-1 "Concert for New York" in October at NYC's Madison Square Garden. Both events have been released on CD, DVD and VHS. Bon Jovi also took part in the "Alliance For Neighbors" concerts which benefited families living near the band members' hometowns who were affected by the World Trade Center attacks. In December, Jon and Richie performed a rousing rendition of "Here Comes the Sun" as a tribute to the late George Harrison at the 2001 My VH1 Awards, before winning the award for "Hottest Live Act". In February, Bon Jovi once again wowed a global audience with their amazing performance at the Closing Ceremonies of the Salt Lake City 2002 Winter Olympic Games.
Look for BON JOVI TV to return to www.bonjovi.com...
~~~~~~
Curtesy of Bon Jovi info:
BON JOVI HITS THE RECORDING STUDIO
Let the games begin! BON JOVI are in the studio finishing up some demos before they kick off the official recording process for their next album (tentatively titled BOUNCE) - keep checking out www.bonjovi.com for news. Plus, new footage for BON JOVI TV will begin filming next Monday with new episodes following shortly after. 2002 is gonna rock! 2002 is the year of BON JOVI!

HAPPY BIRTHDAY JON!!!
Jon turned 40 last Saturday (March 2nd), me and Raquel wish him all the best for 2002 and all the other years to come!!!

Jon's birthday party was hosted by Dorothea Bongiovi at the Angel Orensanz Foundation for the Arts in New York City, it was called "Tarts and Vicars". Click here for the photos.